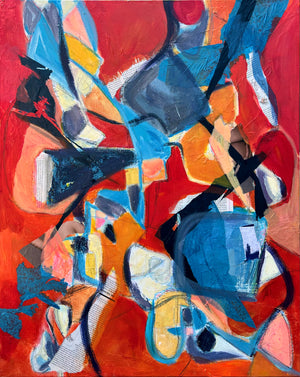 Completely Unravelled 30 x 24 in.
Sale price Price $800.00 Regular price Unit price / per
Acrylic and collage on canvas 30 x 24 x 1.5 in.
This is a completely intuitive abstract. I treated it like a puzzle needing to be solved. It has many under-paintings but none of them seemed right so I kept working on it, using my intuition and lots of trial and error until it finally felt 'right'. I love the energy and vibrancy with the fascinating variety of shapes. Many times during the pandemic, whilst I was working on this art piece, I felt like I was beginning to unravel. So I have payed homage to this with the title.
This artwork has been finished with a UV resistant varnish and is wired and ready to hang.