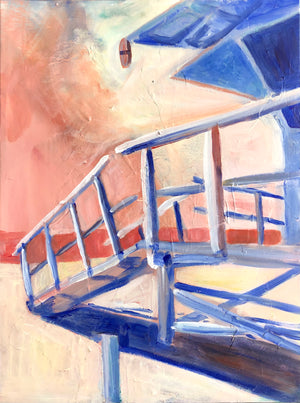 Earth Tones Tower 24 x 20in.
Sale price Price $480.00 Regular price Unit price / per
Acrylic on canvas 24 x 20 x 1.5 in.
Living next to the Pacific in Southern California, I am drawn to painting the many lifeguard towers on the beach. I enjoy using unusual colors or angles. Is this piece I have used Professional grade earth friendly acrylic paint in an effort to be more environmentally friendly. The natural earth pigments have given the artwork a lovely warm and welcoming hue whilst still providing vibrant hues. This piece has been painted over many layers of paint and collage using recycled paper and gives the painting a fascinating texture. The warmth of this piece conveys the heat found on the beach in late summer.
This painting is finished with a clean, UV resistant varnish and is wired and ready to hang.