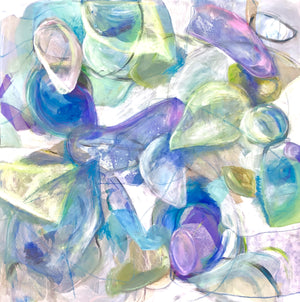 Italian Sea Glass, 36 x 36 in.
Sale price Price $1,100.00 Regular price Unit price / per
Acrylic and oil pastel on canvas 36 x 36 x 1.5 in.
This painting reminds me of the hours spent with my young daughter on the Italian coast near Finale Ligure one summer. We loved to beach comb and collect the sea glass washed up. There was a fascinating variety of colours and shapes. In this painting I want to recreate the happy, relaxing time we had on holiday in the sun with the Ligurian waves gently washing over our feet.
This is acrylic, pastel, charcoal and acrylic pen on canvas. The painting has been continued onto the edges so does not require framing. The artwork is finished with a UV resistant varnish and is professionally wired, ready to hang.