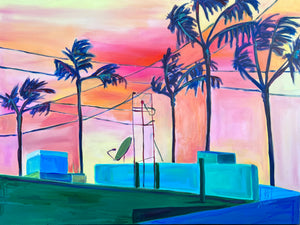 Palm Trees and Power Lines 30 x 40 in.
Sale price Price $1,200.00 Regular price Unit price / per
Acrylic and pastel on canvas 30 x 40 x 1.5 in.
Power lines and palm trees are an iconic feature of the LA skyline. In this painting I was inspired by the silhouettes created at sunset while I was out walking in North Redondo. The scene I photographed was industrial but the silhouettes and colorful sky create a beautiful sunset scene along with the interesting use of shapes and colors.
Finished with a UV resistant varnish and wired and ready to hang.