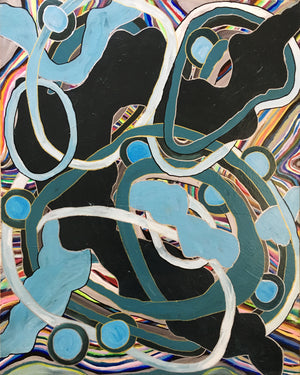 Ocean Funk 30 x 24 in.
Sale price Price $780.00 Regular price Unit price / per
Acrylic on Gallery Stretched Canvas. 30in x 24in x (1.5in thick)
This is my second painting in my 'Ripples' series where I have layered acrylic paint onto acrylic paint giving a ripple effect. I like to work on several paintings at once and I used the leftover paint on this painting. I often find my most interesting colour combinations occur when I do this and I usually work with colours that I would not instinctively choose. I like the many layers in this painting and how the shapes and lines draw your eye into intriguing patterns.

This is acrylic and acrylic pen on gallery stretched canvas. The painting is wired and ready to hang and has been finished with a UV resistant varnish.