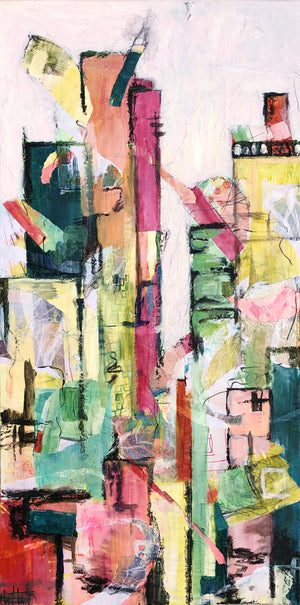 Summer in the City 24 x 12in. SOLD
Sale price Price $360.00 Regular price Unit price / per
Acrylic, pastel, collage on canvas.
This seems such a simple title but embodies the many emotions I feel when going into downtown L.A. I feel excited and nervous, energized and worried, happy and sad. There is always a lot going on in the city in summer, lots of people and cars. There is often a feeling of complete chaos with the mix of wealthy people and homeless, business people and tourists. The events of 2020 made trips to L.A seem even more chaotic, but the sun shining always makes me feel happy and hopeful.
I used a mix of paint and collage to create the textures and shapes in this artwork.

This piece has been finished with a UV resistant varnish and is wired and ready to hang.