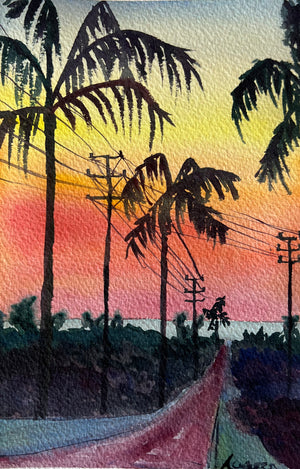 Sunset Silhouettes 9 x 6 in.
Sale price Price $50.00 Regular price Unit price / per
Watercolor on cotton paper
As my daughter spends many hours training with the swim team, I find myself walking for many hours every week after dropping her off. In winter I am lucky to find myself experiencing some amazing sunsets. This watercolor was inspired by my wanders around El Segundo and the glimpse of the ocean with the fantastic silhouettes of the power lines and palm trees. The ocean almost seems to glow as the sun sets.
This was painted with professional lightfast watercolor paint on 100% cotton paper.
The artwork will be shipped unmatted and unframed.