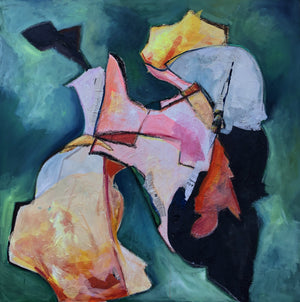 Turmoil But Ever Upwards 36 x 36 in.
Sale price Price $1,600.00 Regular price Unit price / per
Collage and acrylic on gallery wrapped canvas, 36 x 36 x 1.5 in.
This artwork represents the feeling of turmoil and anxiety I felt throughout last year. The shapes and colors are an expression of the constant mood swings i felt with the jagged lines and pops of bright colors offset by the dark and brooding colors. The collage brings depths and texture with elements of text showing the swirling pieces of information constantly bombarding us all. Yet I am an eternal optimist and even in the darkest times I feel that things will always get better and happiness will return.
This collage and painting has been influenced by Kandinsky's use of shapes and colors to convey different emotions.

This artwork has been finished with a UV resistant varnish and is wired and ready to hang.