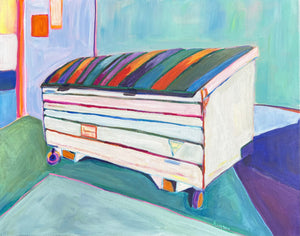 Where did John Put My Paintings? 16x20 in.
Sale price Price $430.00 Regular price Unit price / per
Acrylic on Canvas 16 x 20 x 1.5 in.
This is a fun painting, playing on the fact that many artists have lots of finished artworks and not enough space to store them. It also follows my passion for painting typically unattractive objects and trying to make them more appealing. Here I have used bright colors and bold shapes to make this a more attractive scene of a back alleyway.
This has been finished with a UV resistant varnish and is wired and ready to hang.